About
Integrated Toll Module (ITM)
Tolling is an expanding multi-billion dollar industry with roughly 37 million electronic toll accounts in existence today. Currently, more than 75 percent of new car registrations are in states with toll roads, with over 50 million drivers accessing these roads each year. To make tolling simple, Gentex Corporation has developed a universal, vehicle-integrated toll collection technology for automotive applications.
What is ITM?
ITM is a toll collection technology for factory integration into new vehicles. The system uses a multi-protocol toll transponder that provides drivers with access to many toll roads throughout the U.S. and Canada. ITM eliminates the need to affix multiple toll tags on the windshield, which not only detracts from the vehicle's appearance but also can potentially obstruct the driver's forward vision. Register your ITM to enjoy convenient, reliable access to toll roads across North America.
Tolling Technology
With current tolling systems, the driver must purchase a toll tag transponder, register it, have a deposit on file, receive the RFID from the toll authority, and affix it to their vehicle. This applies for each different toll road authority. ITM brings the different toll systems together in a single hardware and software solution that provides dynamic functionality of all tolling protocols in the U.S. and Canada.
Benefits
Vehicle-Integrated: Cannot be misplaced, lost, or stolen
Concealed: Out of sight, eliminating the need for multiple transponders cluttering the windscreen
Comprehensive: Single solution toll payment management
Battery-free: No battery replacement required
Convenient: Once registered and turned on, ITM automatically takes care of toll payments
Performance: Never again worry if your transponder is within range
2020 PACE Winner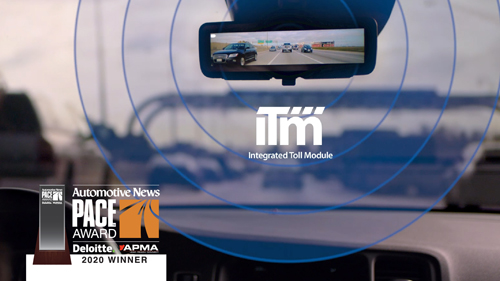 The Integrated Toll Module led Gentex to earn a 2020 Automotive News PACE Award. The prestigious award recognizes automotive suppliers for superior innovation, technological advancement, and business performance. The 26th annual PACE Awards were presented by Automotive News, Deloitte, and the Automotive Parts Manufacturers' Association (APMA). The competition was open to suppliers that contribute products, processes, materials or services directly to the manufacturer of cars or trucks. The Automotive News PACE Award is accepted around the world as the industry benchmark for innovation. Gentex earned the Automotive News PACE Award following an extensive review by an independent panel of judges, including a comprehensive written application and a site visit.